Posted by DJ DAME HUSTLE at 6:14 PM
p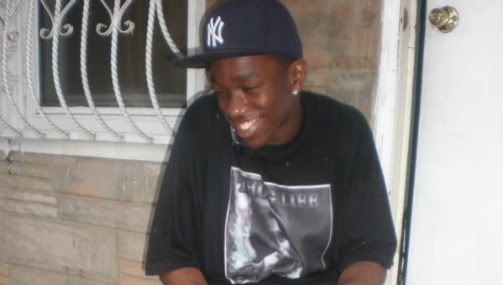 Say whats good to Brooklyns own D.Julien.Allow me to put you on game.D is a young hot spitter with the lyrical skillz of a M.C.way beyond his years.D.brings you into his life spitting from the heart and not making shit up like alot of cats do today.So if your into lyrics with no gimmicks you'll love him. WELCOME...........YOUR ALL WELCOME

1.FOR THOSE THAT DONT KNOW WHAT LABEL OR GROUP ARE YOU SIGNED TO PRESENTLY?
Actually unsigned right now. No real rush for me although if the right deal comes along, we'll see what happens. Right now I'm more focused on getting my buzz up.
2.HOW DO YOU FEEL ABOUT TODAYS HIP HOP,AND WHEN I SAY THAT I MEAN IT ALL THE HOT SHIT THE WACK SHIT....HIP HOP AS A WHOLE AND ITS DIRECTION?
Lol. I think it's becoming stable again. The auto-tune has to go man. T-Pain did his thing and now everybody think it's cool to experiment with. That's not the case lol. But yeah there is some great music being put out there and some questionable music so to speak but that's how it has always been and will always be. I just try to do my part to contribute great music in attempts to keep this culture stable.
3.AS A UNDERGROUND ARTIST ,IS IT HARDER FOR YOU TO GET YOUR MUSIC TO THE MASSES,OR ARE THINGS STARTING TO SWING YOUR WAY?
Well yeah obviously I'm not blessed with the resources that a signed artist would probably take advantage of. However, the internet has been a great tool of promotion for me. Bloggers have been showing a lot of love, I've been on college radios and I've been on commercial radio out here in NYC. I also do shows as often as I can. All of that are great ways to increase my buzz I feel.
4.HOW DO YOU FEEL ABOUT MIXTAPES?
I love mixtapes. I feel like for some artists it's a great way to sort of prep fans and or listeners in general for your LP or whatever future projects you plan on releasing. Some like to look at mixtapes as sort of an EP. Some people call it an EP, some call it a mixtape. There are some differences but cool, whatever floats your boat lol.
5.DO YOU THINK,THE INTERNET IS DESTROYING HIP HOP,LIKE MANY PEOPLE COMPLAIN ABOUT?
The internet is doing nothing but strengthening the culture. Blogs and hip hop sites such as yours are providing people who may have been discouraged by what they heard on the radio or seen on TV, a chance to see/hear true talent. Ultimately they get to voice their comment and voice their opinion which makes some feel that they serve a purpose on certain sites, which they do. The only downsides are all the leaks but no one can stop that.
6.HOW DO YOU FEEL ABOUT WHERE YOUR AT IN YOUR CAREER THUS FAR,AND WHERE TO YOU ULTIMATELY WANT TO TAKE IT?
I'm grateful for what I've accomplished so far. I mean I'm 17 so I plan on being here for a while. I want to do as much things while I'm around this age musically so that when I'm like 20-21 I can be satisfied knowing that the hard work paid off up until that point. There's a lot more to accomplish obviously but like I said I'm grinding and I'm doing my thing. I have no doubts that it will pay off.
7.FAV. BIGGIE JOINT AND WHY?
Man this is like a 30 song tie lol. Nah but if I had to choose one it would probably be Juicy. I didn't relate to 100% of his words but most. Flow was impeccable. It just motivated you to work hard and achieve your goals. "Girls use to diss me/ now they write letters cuz they miss me". Lol. Definitely can relate to that. I touched something familiar in my "Treat Me Different" joint.
8.FAV. TUPAC JOINT AND WHY?
I happen to personally think Tupac is one of, if not thee best artists of all time.

I honestly can't pick one joint. I can listen to any Tupac song like 10 times in a row, dead ass.

He was just that good in my opinion.
9.SANNI LATHAN OR NIA LONG AND WHY?
Sanni Lathan. Omar had a good time in Love and Basketball lol. I like Nia too but Lathan is a little more appealing to me.
10.BALD , BUSH ,OR NEATLY TRIMMED?
Neatly trimmed.
11.TOP 5 MC'S (IN NO PARTICULAR ORDER)
Common, Nas, Eminem, Biggie, Tupac
12.ANY WORDS,OR THOUGHTS FOR THE PEOPLE THAT THINK HIP HOP IS ALL NEGATIVE?
Listen to D.Julien, period.
13.DO YOU THINK A PROMOTION SITE LIKE THIS WILL BE HELPFUL FOR ARTISTS,SUCH AS YOURSELF AND DJ'S,AND FANS WHO WANT TO ESCAPE FROM THE SO CALLED HIP HOP,THAT THEY PLAY ALL DAY ON T.V AND JUST CANT FIND THE HOT SHIT WE'RE LOOKING FOR?
Definitely. It goes back to what I said a couple responses ago.
14.LASTLY,WHERE CAN A DJ CONTACT YOU AND WHAT DO YOU WANT TO SAY TO ALL YOUR SUPPORTERS AND NEW FANS OUT THERE.AND ANY SHOUT OUTS.
Could hit me up @ www.myspace.com/djulien , www.djulienn.blogspot.com . Email me @ djulienmusic@gmail.com . To all my supporters and fans, I just want to say thanks for listening and appreciating what I'm trying to contribute to Hip Hop. It can only get better from here on out. I invite everyone to run this marathon with me and continue to support good music. I look forward to the future for real and you guys should to!