Posted by DJ DAME HUSTLE at 8:15 AM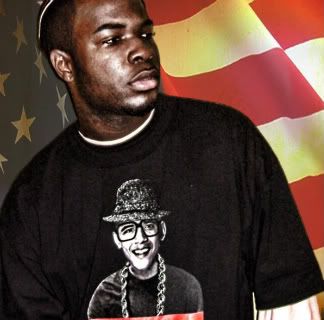 Say whats good to Gulfport Mississippi representer Tito Lopez.Yo I cant front I just found out about Tito about 48 hours ago and all I can say is DAMN.Tito is dope.He's in his own lane.His flow is so effortless and slick.Its really refreshing to hear a MC with his own style and no gimmick.Ive been bumping his shit all day.If you do nothing else today download his joints.I promise you wont be let down and if you are you dont like real hip hop.I tracked him down for a lil Q&A strickleehiphop style and heres what went down.YOUR WELCOME........ YOUR ALL WELCOME

1.FOR THOSE THAT DONT KNOW WHAT LABEL OR GROUP ARE YOU SIGNED TO PRESENTLY?

I am an artist/co-founder of G.P.T. Entertainment. I'm also 1/3 of the super-group THE G.P.T. BOYS. I know everybody's got a crew but, in the spirit of Outkast, The Fugees, etc, we're gonna try to bring the "group" back in Hip-Hop. They're kinda endangered right now. Everybody's so focused on themselves.
2.HOW DO YOU FEEL ABOUT TODAYS HIP HOP,AND WHEN I SAY THAT I MEAN IT ALL THE HOT SHIT THE WACK SHIT....HIP HOP AS A WHOLE AND ITS DIRECTION?

I think Hip-Hop is exactly where it needs to be. And if anybody out there feels it's missing something or whatever, do something about it. That's what I'm doing. If you're not part of the solution, you're part of the problem.

3.AS A UPCOMING ARTIST IN THE GAME,IS IT HARDER FOR YOU TO GAIN NEW FANS WITH THE SHIFT IN HIP HOP GOING FROM SKILLZ TO GIMMICKS?

I don't think so. I'm always promoting myself, and now people are starting to take notice, so I feel ok about it. I'm confident in the music, so I'm gaining new fans every day. If the shit is dope, you can't deny it…PERIOD!

4.HOW DO YOU FEEL ABOUT MIXTAPES.

I love mixtapes…at least MY mixtapes! Lol I'm gonna always do them, because there's too many beats that I wanna rock, that AREN'T mine. I don't care who owns the beat, if it leaks, I'm gonna kill it. But I also make sure to keep making my original music, because that's what makes you career. I think mixtapes are really only for the artists who make a surplus of music, and who are always in the studio. You can tell who just loves to make music.
5.DO YOU THINK,THE INTERNET IS DESTROYING HIP HOP,LIKE MANY PEOPLE COMPLAIN ABOUT?

Absolutely NOT! I'm from a very small city, so if it wasn't for the internet, I wouldn't be doing this interview right now. It would take longer for people to hear me. If anything is wrong with the internet, it's all these losers leaving negative comments on everything. On every site I see, there's E-thugs, and cyber-gangsters making threats under a Lil' Wayne track, or claiming that they're better than somebody. I think the option to leave comments on shit, should be disabled. If you're not a musician, you have no place to tell a musician HOW they should be doing their music. GET A LIFE! Threats over the World Wide Web don't scare anybody!

6.HOW DO YOU FEEL ABOUT WHERE YOUR AT IN YOUR CAREER THUS FAR,AND WHERE TO YOU ULTIMATELY WANT TO TAKE IT?

Well, I've YET to accomplish a fraction of everything I have on my checklist, so I'll be going full speed ahead for a long time. I just wanna take it as far as it can possibly go.
7.FAV. BIGGIE JOINT AND WHY?

My favorite Biggie joint is probably "Sky's The Limit" because it's very inspirational. Just the beat alone kinda speaks to me like "NEVER GIVE UP!!!!", ya dig? But the one I relate to the most is probably "Suicidal Thoughts", because I've been suicidal before. I'm not there anymore, but I know what that feels like. All the pressure he feels in that song is nothing new to me.
8.FAV. TUPAC JOINT AND WHY?

My favorite Pac joint is…probably "PAIN". I used to watch 'Above The Rim' all the time, and it played all through the movie at different times. Those were probably my favorite Pac years, around '94-'95, the THUG LIFE Pac. I wish you would ask me what my favorite EMINEM joint is, because I think he's really the greatest to do it so far. Nobody really wants to give that to him, though. Y'all still ain't told a better story than "STAN"!
9.SANNA LATHAN OR NIA LONG AND WHY?
Keyshia Cole!!! Because that's my wife, and I'm faithful! I DON'T CHEAT! LOL
10.BALD , BUSH ,OR NEATLY TRIMMED?
DAMN! LOL I'll save that for a female interviewer…
11.TOP 5 MC'S (IN NO PARTICULAR ORDER)

Eminem Biggie Outkast (BOTH OF THEM) DMX…..Tito Lopez
12.ANY WORDS,OR THOUGHTS FOR THE PEOPLE THAT THINK HIP HOP IS ALL NEGATIVE?
NONE WHAT-SO-EVER, because if somebody was really living and breathing Hip-Hop, they would know it's not all negative. So I don't have to answer or explain anything to the Bill O'Reilly's out there.
13.DO YOU THINK A PROMOTION SITE LIKE THIS WILL BE HELPFUL FOR ARTISTS,SUCH AS YOURSELF AND DJ'S,AND FANS WHO WANT TO ESCAPE FROM THE SO CALLED HIP HOP,THAT THEY PLAY ALL DAY ON T.V AND JUST CANT FIND THE HOT SHIT WE'RE LOOKING FOR?

Absolutely! ALL sites help people to find music but, a lot of the underground sites do jump on the underground artists, such as myself, quicker than the big mainstream sites. And you just keep working and dropping music, and work yourself up. But I can't forget any site that posts my music so, shout out to ANY place, big or small, that posted a TITO LOPEZ track! Means more to me than you know.
14.WHAT CAN WE EXPECT FROM YOU IN THE FUTURE?

My next project will be called "KING WIT NO CROWN". It's something like an internet album. It will be nothing but original music to prove to everybody that I CAN make more than mixtapes. But right before I drop it…I got a mixtape coming! Lol The mixtape will be the prequel to the album.
15.LASTLY,WHERE CAN A DJ CONTACT YOU AND WHAT DO YOU WANT TO SAY TO ALL YOUR SUPPORTERS AND NEW FANS OUT THERE.AND ANY SHOUT OUTS.
Any DJ'S, promoters, or anybody can contact me at titolopez1@yahoo.com . Send all music to titolopez228@gmail.com . Anybody who really supports me and helps me to get my name out, or is simply a fan of the music, I truly THANK YOU! Shout out to strickleehiphop.blogspot.com of course, Hear-It-First.net, Hip-HopKings.com, AllHipHop.com, Defsounds.com, Datpiff.com, Mix Master Maize, Midnite, Emma Watson, and all of my G.P.T. family. If I forgot anybody, my bad. Go to my myspace at www.myspace.com/therealtitolopez and download all of my mixtapes, look for my videos, and 'KING WIT NO CROWN' will be dropping this summer! Peace!
Couple of my favs
Soul Ride
LINK
Looking Thru The Widow
LINK
Magnificent Freestyle