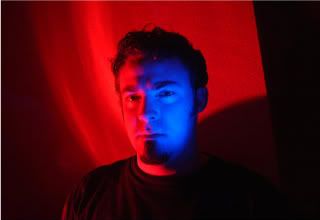 1.ARE YOU SIGNED TO ANY LABEL OR GROUP AND HOW LONG HAVE YOU BEEN DJING?

I am my own Indie Label " WAX REPLICA " (www.waxreplica.com) and I have
been djing for 14+ years... I know EVERYONE has their own label, but eff
it... Thats how I do...

2.WHO ARE YOUR TOP 5 DJ'S AND WHY?
1) Dj Premier - Always killin the beats, cuts and has shown versatility
by doing more commercial and underground hip hop without sacrificing
his integrity and love for the REAL.
2) Dj Revolution - The best scratch DJ there is... PERIOD! Also murders
production with a clean and crisp sound.
3) Cut Chemist - Can cut the SHIT out of any sound and his love for crate
digging shows in his universal style of production that can satisfy all
types of listeners.
4) Dj Shadow - Has shown his great ability to create dark and moody
productions as well as heavy funk inspired boom bap, and too can cut shit
up!
5) Dj Babu - Started as an ill scratch and mix dj with great ability, and
moved on to be a production master.
3.HOW DO YOU FEEL ABOUT TODAYS HIP HOP,AND WHEN I SAY THAT I MEAN IT ALL THE HOT SHIT THE WACK SHIT....HIP HOP AS A WHOLE ?
Right now I think Hip Hop is coming full circle. While some tinker bell
productions are still making money, Some of the more elaborate sample based
productions are starting to make their way to the mainstream with acceptance
by a universal fan base.
4.HOW DO YOU FEEL ABOUT MIXTAPES GAME TODAY ?
Mixtapes now are way different than when I did them heavily. I don't
follow them heavily but from what I have heard they are more about the DJ
than the music itself. I wanna hear the dope " B-Side" exclusive tracks
mixed and cut in without hearing the dj say their name constantly and
ruining the track. Put the focus on the mixing, scratching and overall
music. The mixtapes used to get peeps excited about the next album from
artists, now they are mostly annoying.
5.WHATS THE ONE THING YOU THINK A DJ SHOULD ALWAYS REMEMBER?
The essence of the dj, knowing how it all started and respecting the
artists they play and playing what THEY like, not what someone tells them or
pays them to like / play.
6.HOW DID YOU FEEL WHEN DJ DRAMA GOT INTO HIS SITUATION WITH THE RIAA?
The RIAA is getting VERY desperate. The Record industry needs to find
ways to make money, place the blame on, and re-coup losses. Most of the
time it's the dj's that help launch interest and careers, while the RIAA is
trying to end ALL of them... Pretty soon there will be nothing left for them
to do and they will search out any and all people, even the innocent
listeners.
7.DO YOU THINK,THE INTERNET IS DESTROYING HIP HOP,LIKE MANY PEOPLE COMPLAIN ABOUT?
Many people think it is ruining music as they might not be used to it
and are opposed to NEW technologies as they might be 100% purists.
Downloading some ones album may in some sense take money from pockets, but
back in the day many did hip hop for the love of it and were lucky to see a
damn dime from it. I myself have put more money into making, listening and
spinning hip hop than I have ever gotten back from it. I will always try to
grasp new technology and use it as a tool to promote, and help launch
projects. I can make a new track and give it to thousands instantly. Its the
best way to get yourself or your project out there. Don't fight it, use
it... It will help you, I promise...
8.HOW DO YOU FEEL ABOUT WHERE YOUR AT IN YOUR CAREER THUS FAR AND WHERE DO YOU ULTIMATELY WANT TO TAKE IT?
I have spent 16+ years developing / creating my full time career as a
Graphic artist. I am an Art Director for a company named Mad Engine that
creates all the apparel for brands such as Marvel Comics, Sony pictures,
Hasbro, West Coast Choppers and many, many more all designed for retail
outlets such as Wal-Mart, Target, Macy's, to even more trendy stores such as
Urban Outfitters, Dr Jays, Hot Topic, etc... Check the tags on your gear,
you probably have something we did... I have launched clothing lines,
created album packaging for many artists you might know of , Pumpkinhead,
Jean Grae, Capital D of All Natural, Verbal Kent, Def Jux, and more... Need
art? Hit me up, I specialize in making your shit look like a million bucks,
literally!
Aside from that I have been living hip hop the whole time and some
people in my hometown have no idea who I am or what I have done. It's
probably my fault as I am not the best at promoting myself or bragging about
what I do. I have so many beats, that in my ears are bangin as f@#k but
since I cant make it to all the shows and support others, people may not be
interested. I also try to keep my beats hidden as I am always looking for
new emcees to work with and don't want to play shit out!
I am not frustrated as some may be by this time , but I will continue to
make music and art , put it out, and hopefully people will continue to
enjoy it. At some point, like all others make it to a point where thats all
I do to make ends meet...
9.FAV. BIGGIE JOINT AND WHY?
THE WHAT?! - No better combo than Method Man and Biggie on a BANGIN
simplistic beat!
10.FAV. TUPAC JOINT AND WHY?
I GET AROUND - This was when he was really having a lot of fun with his
music and Digital underground was a fav of mine at the time!
Nia Long
12.BALD , BUSH ,OR NEATLY TRIMMED
Neatly Trimmed
Come on now! Turntables for sure, nothing will ever beat traditional
tables.
14. TOP 5 MC(IN NO PARTICULAR ORDER)
KRS ONE , Rakim, Guru, Q- Tip , Blu
15. DO YOU THINK A PROMOTION SITE LIKE THIS WILL BE HELPFUL FOR ARTIST AND DJ'S,AND FANS WHO WANT TO ESCAPE FROM THE SO CALLED HIP HOP,THAT THEY PLAY ALL DAY ON T.V?
Most definitely! Again, the internet is a useful tool that will do
nothing but help get you out there.
16.ANY ADVICE FOR THE UP AND COMING DJ'S OUT THERE?
Start with the basic tools and advance your skills. Don't let someone
else tell you what to like, be an individual. Learn how to mix properly
first then scratch.
17.WHAT CAN WE EXPECT FROM YOU IN THE FUTURE?
I have recently been busy making beats and recording songs for various
projects. I have done music for commercials that aired on FUEL TV (action
sports version of MTV). I make instrumental loops for various action sports
companies and their sites. Currently, I am wrapping up the mixing on the
SUPA UNKNOWN album which is an album with myself on the production and the
West Indies that involves all songs built and based on our favorite movies
from over the years. It's a diverse concept album for sure. The New Joint
Response album is starting to shape up! My nephew and I have started a very
different type of album with our group ironically named " NEPHEW ". You can
also catch me at a local beat battle near you. I will be doing ART for
ANYONE that wants to pay me for it!
17.LASTLY,WHERE CAN A ARTIST CONTACT YOU AND WHAT DO YOU WANT TO SAY TO ALL YOUR SUPPORTERS AND NEW FANS OUT THERE.AND ANY SHOUT OUTS,LET THEM KNOW CAN FIND YOU(BLOG ,WEBSITE,SIRIUS,XM WHATEVER)
Music sites :
www.shagbeats.com
,
www.waxreplica.com
,
www.jointresponse.net
,
www.myspace.com/djshag
,
www.myspace.com/thefamilygroup
,
www.myspace.com/jointresponse
Art sites :
www.44m.us
,
www.zero2360.com
XBOX 360 tag : " zero2360 " game that shit SON!
Thanks to everyone who has supported me and sent any form of message my way,
positive or negative. My wife Shannon , Mantis, Blame One, Bob One, Rath ,
Dash Eye, 2 Smooth , Dj Fingaz, Charlie Rock, Demon, The West Indies, Anti
Citizens, Dj Artistic, Deep Rooted, Exile, Dilla! (R.I.P.) J.A.Y. the
Fallguy, J Willz, my artists and fellow management at Mad Engine , Matuse,
Flow snowboards, Blest, bubba, Future Shock, Cap D, Verbal Kent,
Pumpkinhead, Cros 1, King D, Dannu, Dj Sinn, Mark my Words, G Rock, Deja Vu,
Kankick, Dj Cro, the Others, the Masterminds, Access Hip Hop, Music and
Strength, Oowee, Spearman. and any I forgot , you already know you are the
shit!
Peace!